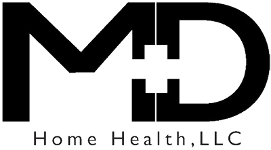 Call: (877)780-1824
Local Office: (561) 689-0445
Fax: (561) 689-0415
580 Village Boulevard, Suite 315, West Palm Beach, FL 33409
Celebrating 16 Years of Professional Home Health Services!
Click here for COVID-19 updates
Frequently Asked Questions
We try to anticipate questions you might have about our home health services and provide the answers here. If you need additional information send an email to M.D. Home Health, LLC.
1. What insurances do you carry?
We are contracted with: Medicare, Aetna, Humana, WellCare, Cigna, Coventry, Blue Cross/Blue Shield, Freedom Health, Optimum Healthcare, and Sunshine Health. If you do not see your health plan, please call and inquire.
2. When should I expect a call from my caregiver?
Caregivers will contact you between the hours of 5 p.m. – 8 p.m. If you do not receive a call, please contact the 24-hour on-call service.